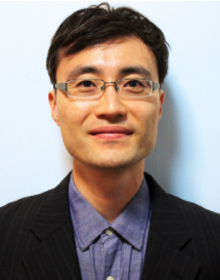 이승현 |

반도체소자, 공정, 메모리, 디스플레이, 패키징

경희대학교
Department of Electrical Engineering, Rm 518, Kyung Hee University. 1732, Deogyoung Road, Giheung, Yongin, Gyeonggi, 17104, South Korea
학력

Education

2013 – 2016 : Postdoctoral Researcher, Stanford University
2006 – 2012 : Ph.D in Electrical Engineering, University of Michigan, Ann Arbor
1997 – 2002 : B.S. in Mechanical Engineering, Seoul National University
약력/경력

Experience

2006 – 2006 : Researcher, LG Electronics
2005 – 2006 : Engineer, Hyundai Motor Company
2002 – 2005 : Engineer, Hyundai Heavy Industries
관심분야

Research Interest

반도체소자, 공정, 메모리, 디스플레이, 패키징
논문

Journal Article

Yuseop shin, Junho Bae, Jinho Lim, Dasom Jeon , Ilsoo Kim, Taeil Jung, Myungsoo Han, and Seunghyun Lee, "Coupled thermo–electrical analysis of highly scaled GaN micro-LEDs with meshed hybrid conductors", Semiconductor Science and Technology (2019)
Jinho Lim, Dasom Jeon, Sunghwan Lee, Jae Su Yu, and Seunghyun Lee, "Nucleation promoted synthesis of large-area ReS2 film for high speed photodetectors", Nanotechnology, 31, 115603 (2019)
Sunghwan Lee, Jinho Lim, Shem Seo, Dasom Jeon, Batyrbek Alimkhanuly, Arman Kadyrov, and Seunghyun Lee, "Metal oxide resistive memory with a deterministic conduction path", Journal of Materials Chemistry C, 8(11), 3897 (2019)
Shem Seo, Jinho Lim, Sunghwan Lee, Batyrbek Alimkhanuly, Arman Kadyrov, Dasom Jeon, Seunghyun Lee, "Graphene-edge electrode on a Cu-based chalcogenide selector for 3D vertical memristor cells", ACS Applied Materials & Interfaces, 11, 43466 (2019)
Soo Hyun Lee, Sanghun Kim, Seunghyun Lee*, and Jae Su Yu*, "Large-area growth of multi-layered MoS2 for violet (405 nm) photodetector applications", Phys. Status Solidi A (2017)
Seunghyun Lee, Sanghoek Kim, ''Power Link Optimization for a Neurostimulator in Nasal Cavity" , International Journal of Antennas and Propagation (2017)
Lee, Kyunghoon, Seunghyun Lee, Yun Suk Eo, Cagliyan Kurdak, and Zhaohui Zhong. ''Evidence of Electronic Cloaking from Chiral Electron Transport in Bilayer Graphene Nanostructures." Physical Review B, IF:3.718 94, no. 20 (2016).
Rebecca Park, Max Shulaker, Gage Hills, Luckshitha Suriyasena Liyanage, Seunghyun Lee, Alvin Tang, Subhasish Mitra, and H-S Philip Wong. ''Hysteresis in Carbon Nanotube Transistors: Measurement and Analysis of Trap Density, Energy Level, and Spatial Distribution." ACS nano, IF:13.33 10, no. 4 (2016).
연구실 이름

Laboratory Name